Submitted by

nimda

on Mon, 11/10/2014 - 13:02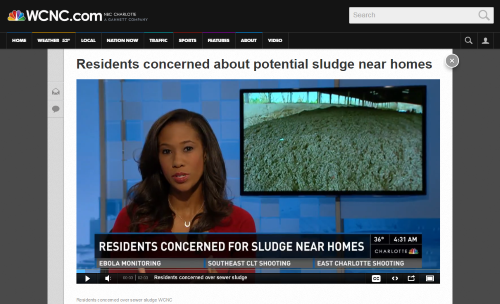 Dan Yesenosky, WCNC 6:08 a.m. EST November 10, 2014
Gold Hill, N.C. -- Concern is rising in Cabarrus County over the potential of sewer sludge being dumped on farms. A few farmers want to use it for their crops, but their neighbors worry about the consequences.
A two-hour meeting in Gold Hill Sunday night had over 100 people in attendance, all searching for answers on how the sludge could affect their quality of life. Applications are in, and now Charlotte-Mecklenburg Utilities and the company Synagro are waiting on permits to spread the biosolid sludge.
Many at the meeting feel the same as Dr. Lance Riley.
"We don't want it in our soils, we don't want it in our water, we don't want it in our ground water, we don't want it in our water reservoirs," Riley said.
The reason people don't want it is because they believe it's harmful to their health, but the whole reason it's an option in the first place is because certain farmers in Cabarrus and surrounding counties have applied and requested to have Synagro spread the sludge on their land. Myra Dotson with the Sewage Sludge Action Network says what people do on their own land is their choice, but this impacts others.