Submitted by

editor

on Thu, 09/16/2021 - 09:48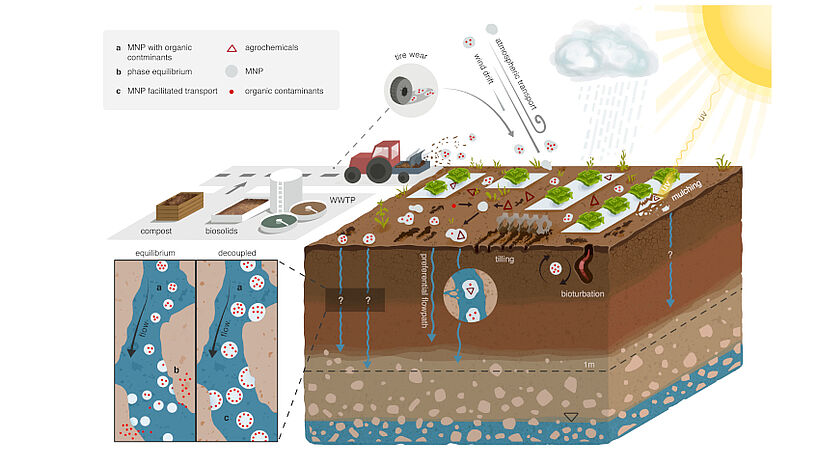 The environmental geoscientists at the Centre for Microbiology and Environmental Systems Science (CMESS) focused on a variety of parameters that contribute to plastic pollution in farmland soils. They calculated for different scenarios whether nano- and microplastic particles transport pollutants to groundwater resources. The result shows: they do not. ( © Audrey Desaulniers, Orcéine, Montreal)
Study shows that microplastics do not contribute to the mobility of organic pollutants in agricultural soils
In agriculture, large quantities of nano- and microplastics end up in the soil through compost, sewage sludge and the use of mulching foils. The plastic particles always carry various pollutants with them. However, they do not transport them into the groundwater, as is often assumed. Environmental geoscientists led by Thilo Hofmann have now determined that the plastic particles release the pollutants in the upper soil layers: they do not generally contaminate the groundwater, but have a negative effect on soil microbes and crops. The study by the University of Vienna appears in Nature Communications Earth & Environment.
Pollutants enter agricultural soils with plastic particles
Wastewater and rivers carry microplastics into the oceans. Wind distributes the particles to the remotest parts of the earth. However, agriculture itself plays a far greater role in plastic pollution of agricultural land: fertilizers such as compost manure or sewage sludge and the remains of agricultural mulching foils carry large quantities of plastic particles, so-called macro-, micro-, and nanoplastics, onto agricultural land. According to current estimates, for example, with every kilogram of sewage sludge, up to 300,000 plastic particles end up on agricultural soils - and with them pollutants. "Plastic always contains so-called additives. These additives ensure certain properties, durability or even the colour of a polymer. In addition, contaminants such as pesticides or pharmaceutical residues may become adsorbed to the plastic particles," explains Stephanie Castan, lead author of the study and PhD student at the Centre for Microbiology and Environmental Systems Science (CMESS) at the University of Vienna.